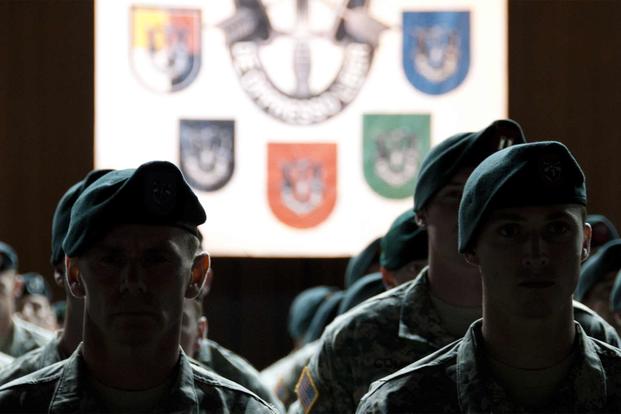 Brand-new Special Forces Soldiers stand at attention during
their Special Forces Qualification Course graduation ceremony Aug. 9, 2012
in Fayetteville, N.C. (U.S. Army/Dave Chace, SWCS Public Affairs Office)
A soldier is on tap to finish the Army's highly selective Special Forces Qualification Course and become the first-ever female Green Beret in the service's history, The New York Times is reporting.
The unidentified National Guard soldier is close to completing the grueling qualification course to become a Special Forces engineer sergeant, according to the Times. Citing unnamed officials, the Times reported the woman is "almost guaranteed" to complete the yearlong course, making it likely that she will finish, barring any injuries.
A spokesman for Army Special Operations Command would not provide information on the soldier's status or what week of training she has reached. He also declined to release information about the woman, such as rank or specialty, citing safety concerns.